LICENSED KENNEL CLUB BREEDER IN SCOTLAND
Welcome to Paws Kabin
Licensed Breeder of Retrievers & Spaniels
Welcome to Paws Kabin
Licensed Breeder of Retrievers & Spaniels
Welcome to Paws Kabin
Licensed Breeder of Retrievers & Spaniels
Welcome to Paws Kabin, a licensed Kennel Club dog breeder in the beautiful Angus countryside, specialising in golden retrievers, cocker spaniels and cockapoos. We have been expert breeders for almost 20 years, producing gorgeous, impeccably-bred puppies.
Our little creations have found lovely homes throughout the UK and Ireland and have gone on to enrich the lives of hundreds of people over the years.
We also care for just over 30 dogs in our state-of-the-art kennels, earning us warmly welcomed plaudits from those who have used our services.
In addition, we have a long-established dog grooming salon, ensuring that pets get the best of treatment whilst in our care. We cater for all breeds of dogs, large and small. We also offer a discounted rate for a  'puppy's first grooming session' and we specialise in grooming nervous, problem and aggressive dogs.  Call us now on 07877 251520 for a free initial consultation.
Leona Hibbert, Licence No DB 4, is licensed to breed dogs by Angus Council under the The Animal Welfare (Licensing of Activities Involving Animals) (Scotland) Regulations 2021. Full Licence is on display at the premises.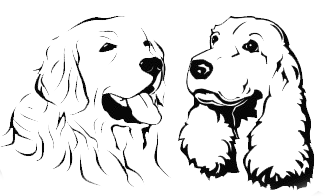 We got Arnie from you last year (born 21/5/21) as a gorgeous little pup. He is one year old now and has made a fantastic addition to our family. Everyone he meets comments on how good looking and good natured he is. We love him so much and can't imagine life without him now, he is the cutest, funniest, most perfect family pet. Thank you
We brought Harris the cockapoo home on 10th March 2021. He has completed our family. He was an amazing puppy, toilet-trained within a couple of days, and used his bells to ask to go outside. He came home to us with a full puppy pack, food, toys and blanket. The toys didn't last long as Harris loves to destroy all toys within minutes of getting them! But he has never caused any damage to the house, saves it for his own toys! Harris is full of fun, loves his ball and to go for lots of walks- he never tires! I would highly recommend getting a puppy from Paws Kabin.
After losing one of my cockers, I messaged Leona and asked what she had available and that's when she showed me Baxter! He was just tiny! We went to view Baxter and told Leona I would have him. Not only was he a stunning dog, but he also had a great, friendly temperament. So, he fitted in well to our mad house!
"As first time dog owners we were excited and nervous, but Leona was fantastic with us. We got to meet KiKi at 4 weeks and then on pick up day when Leona went over the basics of settling her into her new home. Would happily recommend to friends and family without hesitation. Thank you so much you made the first few days - less daunting with your great advice and can't believe KiKi turned one last month."
"We got our Cockapoo puppy Alfie from Leona back in March 2021. He has been a joy from the minute we brought him home. He's daft as a brush and full of fun. I would highly recommend Leona to anyone."